Education at Art W
Our educational panels and tours raise awareness of women artists at numerous major international art fairs, including Art Miami, Miami Project, the Affordable Art Fair New York, and Art15 London. The Art W Salon Series, launched in collaboration with the Rutgers University Institute for Women and Art in 2009 (now the Center for Women in the Arts and Humanities), features outstanding women artists in discussion with leading curators and collectors. Art W has also worked with leading art institutions, including the Elizabeth A. Sackler Center for Feminist Art at the Brooklyn Museum, the Philadelphia Academy of Fine Arts Museum, and the Zimmerli Art Museum at Rutgers, the State University of New Jersey.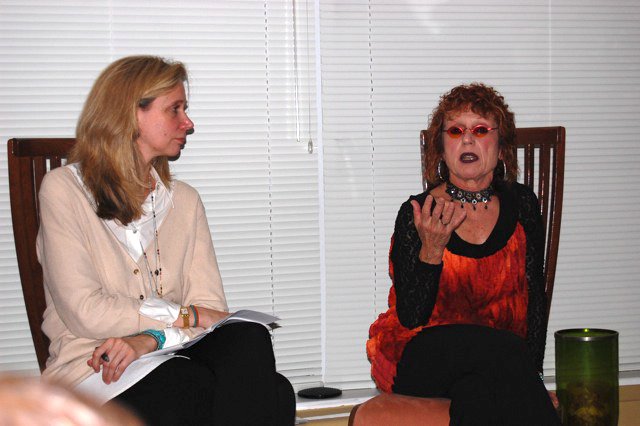 The Art W Salon Series is a forum for outstanding women artists to highlight and discuss their work with an intimate and engaged audience of curators, collectors, museum professionals, fellow artists, and art enthusiasts. The Salon Series aims to foster a supportive and diverse community for women in the arts and to create opportunities for women artists to display their achievements and gain exposure for their work. The Art W Salon Series launched in 2009 in collaboration with the Rutgers Center for Women in the Arts and Humanities (formerly the Institute for Women and Art) and has featured numerous exceptional women artists, including Faith Ringgold, Judy Chicago, Joan Snyder, Anita Huffington, Kathleen Gilje, and Naomi Kremer.
Join our mailing list to receive notifications about upcoming Salon Series events!
The Numbers
Women currently represent 51% of working visual artists in the United States.
Only 32.3% of artists represented by major New York and Los Angeles contemporary and modern art galleries are women.
Of all solo art exhibits in the United States in 2014, only 30% featured women.
Only 5% of the total art on view in the United States in 2014 was created by women artists.
At auction, works by women artists typically account for less than 4% of total sales.
Women leaders in the arts are on average paid between 70% and 82% the salary of men in equivalent positions.
ART W EVENTS
In addition to the Salon Series, Art W has created, hosted, moderated, sponsored or participated in a number of events throughout the art world. These include art fair tours, artist talks and panel discussions. What follows is a selected listing of activities. For more information about how Art W can produce these kinds of events for organizations and corporations, contact us any time.
WHITEBOX NYC WINTER BENEFIT HONORING PUSSY RIOT AT ARTNET (December 2015)
Art W founder Marjorie Martay moderated this conversation with Masha Alyokhina of Pussy Riot, with special guests Eleanor Heartney, Carolee Schneemann, Martha Wilson and Dread Scott at Artnet for WhiteBox NYC.
PANEL DISCUSSION: "INTIMATE TRANSGRESSIONS: THE ACT OF DOING" AT THE ELIZABETH A. SACKLER CENTER FOR FEMINIST ART, BROOKLYN MUSEUM (October 2015)
The Sackler Center presented a discussion of art's role in raising awareness of war, genocide, rape, and sexual violence, as well as the ways that art is used as a tool for transformation in the face of conflicts and human rights abuse. Panelists include writer and critic Eleanor Heartney, writer Luisa Valenzuela, and artist Shirin Neshat. Introductions by Marjorie Martay. Moderated by curator Fion Gunn with artist Anita Glesta, curator Raul Zamudio, and Juan Puntes, Artistic Director at WhiteBox. Organized by CAPA (Center for Asian Pacific Affairs) and WhiteBox, New York, this was held in conjunction with the exhibition Intimate Transgressions, curated by Fion Gunn and Juan Puntes, at WhiteBox.
WOMEN SERIES SPOTLIGHT: GRIMANESA AMORÓS AT EL MUSEO DEL BARRIO (October 2015)
Art W launched the annual Women Series Spotlight at El Museo del Barrio, an annual lecture program celebrating living Latina artists, in September 2015. Art W Founder Marjorie Martay and El Museo curator Rocio Aranda-Alvarado kicked off the new partnership with an intimate evening highlighting the pervasive public works of Peruvian-American artist Grimanesa Amorós. The artist-led presentation and panel discussion was followed by a Q+A and a private reception immediately after.
The third annual Art15 global art fair took place at London's scenic Olympia Park from May 20 to May 23, bringing together leading galleries, curators, and collectors from around the world. One of the most significant cultural events of the London summer season, Art15 provided an international platform for modern and contemporary art. The 2014 edition (Art14) featured galleries from 40 countries and attracted over 31,000 visitors – a number exceeded in 2015.
Art W was pleased to present three VIP gallery tours and a talk at the fair. The curated tours included the most outstanding women artists at Art15 London, led and curated by Art W founder Marjorie W. Martay. Each VIP tour featured a handpicked selection of exceptional women artists working in a particular medium:
Photography and Video Tour ART W's VIP Photography and Video Tour featured the outstanding work by Sama Alshaibi , Lalla Essaydi, Rose English, Julia Fullerton-Batten, Anita Glesta, Janet Laurence, Annie Liebovitz, Janelle Lynch, Christina de Middel, Cecilia Paredes, Romina Ressia, and Penelope Slinger.
Sculpture Tour ART W's VIP Sculpture Tour featured outstanding work by Sara Anderson, Judy Chicago, Isabelle Grobler-Sulger, Ran Hwang, Jane Lee, Kate MccGwire, Brenna Murphy Upfor, Sandra Sashou, Sophia Vari, Joana Vasconcelos, Naomi Wanjiku-Gakunga, and Emily Young.
Painting, Prints, and Mixed Media Tour Art W's VIP Painting, Prints, and Mixed Media Tour featured outstanding work by Cecily Brown, Anne Marie James, Tess Jaray, Annie Kevans, Laura McClaughlin, Keiko Oikawa, Bridget Riley, Bi Rongrong, Kate Shaw, and Min Jung Yeon.
The Importance of Women Artists in Today's Market, an Art W Panel Discussion, featured leading international women curators, artists, and collectors! Moderated by founder Marjorie W. Martay, speakers will include curators Brett Rogers (The Photographer's Gallery, London), Virginia Damtsa (Riflemaker Gallery, London), Karen Jenkins-Johnson (Jenkins-Johnson Gallery, San Francisco), Sara Raza (Guggenheim Museum, New York) and artist Annie Kevans.
Brett Rogers, Director of The Photographer's Gallery: Brett Rogers became Director of The Photographers' Gallery in November 2005. Prior to her appointment she worked at the Visual Arts Department at the British Council as Deputy Director and Head of Exhibitions. During her time there she was responsible for establishing the photography program and policy for the British Council as well as organizing major exhibitions including Anish Kapoor, XLIV Biennale di Venezia, British Pavilion, Venice, 1990; Look at Me: Fashion and Photography in Britain 1960-1997, European touring venues, 1994; Reality Check: British Photography and New Media 2002-2004, European touring venues, 2004. Since taking up the post at the Gallery, Rogers led an ambitious £9.2 million capital campaign to further establish its position as the UK's leading center for international and British photography. A leading writer and speaker on photography, she appears regularly in the media and takes part in numerous panels and conferences on the subject.
Virginia Damtsa, Director and Co-Founder of Riflemaker Gallery: Born Athens, Virginia Damtsa moved to Paris when selected by the Opera National de Paris schools to train for a career in dance. She studied in Paris, Belgium, New York and Cambridge, England before settling in London. Damtsa worked with her family on museum collections and donations whilst at the same time setting up support structures for contemporary artists using disused buildings for studios and exhibitions. The family collection was later donated to different museums in Europe. In 2000, she relocated to London to continue her studies in the Arts and opened her own gallery specializing in emerging artists. In 2004, Damtsa co-founded Riflemaker with Tot Taylor.
Karen Jenkins-Johnson, Founder of Jenkins-Johnson Gallery: Karen Jenkins-Johnson received an MBA from the University of California, Berkeley and her BA from the University of Puget Sound. She sits on the Board of internationally acclaimed Alonzo King Lines Ballet. Ms. Jenkins-Johnson is a former President of the San Francisco Art Dealers Association. She has organized numerous events to benefit the arts community, including: Art Gallery Week (10 Days: 36 Galleries) in San Francisco and Oakland October 2 -13, 2012; and several art walks in San Francisco and Chelsea.
Sara Raza, Guggenheim UBS MAP Curator: Sara Raza has been selected by a committee of esteemed experts in the region as Guggenheim UBS MAP Curator, Middle East and North Africa. As a part of her two-year residency at the Guggenheim in New York, Raza is curating the third phase of the Guggenheim UBS MAP Global Art Initiative. Raza has curated and co-curated several international exhibitions and projects for biennials and festivals, including Collateral Events at the 55th Venice Biennale (2014); Ergin Cavusoglu's Middle Eastern debut exhibition at The Pavilion Downtown Dubai (2011); the Central Asian Salon for the 6th Tashkent Biennial at the Art Gallery of Uzbekistan (2011); and the 2nd Bishkek International: In the Shadow of Fallen Heroes at the Bishkek Historical Museum and Alto Square, Bishkek, Kyrgyzstan (2005). Raza has also organized exhibitions at institutions including the Maraya Art Centre, Sharjah; The Pavilion, Dubai; Haus der Kulturen der Welt, Berlin; and Alaan Artspace, Riyadh, Saudi Arabia among others. Previously she was Curator of Public Programs at Tate Modern.
Annie Kevans, Artist: Since graduating from Central St. Martins in 2004, when Charles Saatchi bought her series of 30 paintings of dictators as young boys ('Boys'), Annie Kevans has had solo exhibitions in London, New York, Vienna, San Francisco, Antwerp and Vienna. She has exhibited in group shows at leading galleries and museums including the Barbican Art Gallery, the Royal Academy, the Saatchi Gallery, the Grand Palais in Paris, the National Gallery of Victoria in Melbourne, the Museum Dr Guislain in Gent, Beursschouwburg in Brussels and the Marres Centre for Contemporary Art in Maastricht. Kevan's series Women and the History of Art depicts figures overlooked, exploited, or objectified within the context of history or contemporary culture, imbuing her subjects with a tangible humanity and sensuality.
WOMEN IN THE ARTS DAY AT MIAMI PROJECT (December 2014)
Art W partnered with the Feminist Art Project and the Rutgers University Women and the Arts Collaborative (formerly the Institute for Women and Art) to host the inaugural Women in the Arts Day at Miami Project on Friday, December 5, 2014.
This day-long series of events included a panel lecture, The Importance of Women Artists in Today's Market, moderated by Art W founder Marjorie W. Martay and featuring speakers Jorge Daniel Veneciano (Executive Director, El Museo del Barrio, New York), Elizabeth Smith (Executive Director, Helen Frankenthaler Foundation, New York), Alice Gray Stites (VP and Museum Director, 21c Museum, Louisville), and Francie Bishop Good (Collector, Artist, and Founder of Girls' Club). The day concluded with guided VIP tours highlighting work by exceptional women arts at Miami Project. The tours were led and curated by Marjorie W. Martay and Sarah M. Rupert.
COLLECTING WOMEN ARTISTS AT ART MIAMI (December 2013)
Art W partnered with Art Miami and the Rutgers University Women and the Arts Collaborative (formerly the Institute for Women and Art) to host a symposium for curators and collectors on Collecting Women Artists at Art Miami's Maserati VIP Lounge on Thursday, December 5, 2013.
The event included a breakfast reception and virtual exhibition of over 100 artists represented by 43 participating galleries showing work by women artists, followed by a panel discussion moderated by Art W founder Marjorie W. Martay and Judith K. Brodsky, founding director, Rutgers University Women and the Arts Collaborative.
Highlights included keynote speaker Elizabeth A. Sackler, founder of the Sackler Center for Feminist Art at the Brooklyn Museum, and speakers Elena Dorfman, (Modernism Gallery, San Francisco), Siri Devi Khandavilli (Lisa Sette Gallery, Scottsdale), Beth Lipman (Claire Oliver Gallery, New York), and special guest Cuban artist María Magdalena Campos Pons. Art W also conducted VIP tours to gallery booths displaying work by outstanding women artists. Tours were led and curated by Marjorie W. Martay and Judith K. Brodsky.
ART X WOMEN AT THE AFFORDABLE ART FAIR (May 2011)
In collaboration with the Affordable Art Fair NYC and A.I.R. Gallery, Art W participated in Art x Women, a special section of nine galleries exhibiting solely work by women artists. The project included the Women Talk lecture series, programming, and tours. As a part of this innovative and exciting new event, Art W founder Marjorie W. Martay gave a talk on Collecting Work by Women Artists on May 7, 2011.